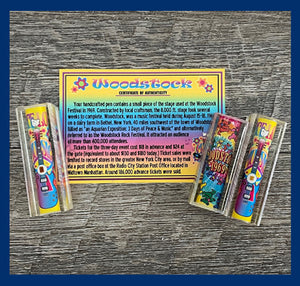 These blanks contain a small piece of 1969 Woodstock stage.
They will come with a COA.
It is offered in both 27/64ths and a JR set, your choice. 
They were cast in epoxy resin. 
Please note: some items are made to order and will ship in 1-2 days

Please use a squaring jig with a sander to square up your label cast blanks, a barrel trimmer is not recommended, as it can damage the label. 
The COA reads:
Your handcrafted pen contains a small piece of the stage used at the Woodstock Festival in 1969. Constructed by local craftsman, the 8,000 ft. stage took several weeks to complete. Woodstock, was a music festival held during August 15–18, 1969, on a dairy farm in Bethel, New York, 40 miles southwest of the town of Woodstock. Billed as "an Aquarian Exposition: 3 Days of Peace & Music" and alternatively referred to as the Woodstock Rock Festival, it attracted an audience of more than 400,000 attendees. Tickets for the three-day event cost $18 in advance and $24 at the gate (equivalent to about $130 and $180 today.) Ticket sales were limited to record stores in the greater New York City area, or by mail via a post office box at the Radio City Station Post Office located in Midtown Manhattan. Around 186,000 advance tickets were sold.
The organizers had originally anticipated 50,000 festival-goers would turn up. Thirty-two acts performed outdoors despite sporadic rain. It was one of the largest music festivals held in history. The festival has become widely regarded as a pivotal moment in popular music history. In 2004, Rolling Stone magazine listed it as number 19 of the 50 Moments That Changed the History of Rock and Roll. In 2017, the festival site became listed on the National Register of Historic Places.